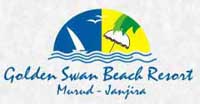 | Home | Golden Swan Country Club | Golden Swan Beach Resort | Hotel Airlines International |
| Hotel Golden Swan | Golden Swan Short Breaks | Feast in a Tray |
CHRISTMAS VACATION TARIFF
from December 16th to December 29th 2017
Room Type
Tariff
(per person)
Occupancy
A C Deluxe Cottage
3900/-
6 pax
A C Cottage
3900/-
4 pax
A C Deluxe Dbl Rooms (Front)
3900/-
2 pax
A C Deluxe Dbl Rooms (Back)
3700/-
2 pax
A C Suite Room (Front)
3900/-
4 pax
A C Suite Rooms (Back)
3700/-
4 pax
Tariff for AC Beach Villa
from December 16th to December 29th 2017
Room Type
Tariff
(per person)
Occupancy
Double
3900/-
2 pax
The above TARIFF is inclusive of one cycle of meals and accommodation.
One cycle of meals start from Lunch + Dinner + Breakfast
Extra person charge will be 2,500/- for above 12 yrs & 1,000/- for children between 5-11 years.
CHECK IN 12:00 NOON CHECK OUT 10:00 AM.
Taxes as applicable.
Rates are subject to change