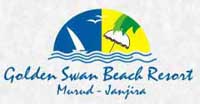 | Home | Golden Swan Country Club | Golden Swan Beach Resort |
| Hotel Airlines International | Golden Swan Short Breaks |
HISTORY
Murud Janjira is a picturesque little fishing village on the lush western coast of Maharashtra(150 kms south of Mumbai), one time capital of the former state of Janjira.
Janjira is the Marathi corruption of the Arabic jazirah meaning an island. Though the whole area was once called Janjira, the name truly referred to the mighty island fortress in the sea. The pride of Murud Janjira, Janjira Fort, was once the stronghold of the Abyssinian Sidis who played an important part in the history of the city of Bombay, in the later part of the 17th century.

What we know fo a fact, is that the Sidis settled in Murud-janjira and prospered, proving to be magnificient seamen and warriors. The fortress was their source of power, strength and protection. No inducement could make them give it up, in the history of its existence, Janjira Fort withstood much battering - from the British, the Portuguese, even Shivaji Maharaj; but it stood unconquered through the centuries.
A stone carving at the main entrance of the Fort depicts six elephants trapped by a single tiger - a symbol of the bravery of the Sidis. Once the fort boasted of five hundred canons, today a handful are left, still intact and able to tell their story. Amongst them are the three major canons, Kalal Bangdi, Landakasam and Bhavani, the cherished weapons of the Sidis, built from five metals.
Murud Janjira is surrounded by the remnants of Portuguese rule. 30 kms north of Murud Janjira at Revdanda. Chaul, Korlai one can see huge walls of the Fort & the church built by the Portuguese.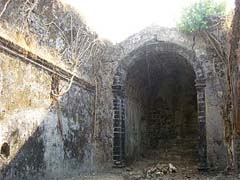 In October 1531, the Portuguese, erected a massive square stone fortress at Chaul (Revdanda, Korlai) which contained a church and dwelling houses, the fortress was named "Santa Maria do Castello".
In April 1592, the Moors,began a new seige of Chaul, but after a hard battle, the Portuguese succeeded to repel the assault.
In 1594, the Portuguese, conquered the adjoining fortress of the "Morrode Chaul".
Owing to the repeated attacks by the Moors against Chaul, in 1613, new works of defense were carried out.
The Portuguese power declined and Chaul, slowly lost his importance.
In March 1739, Chaul and the fortress of "Morro de Chaul" were beseiged by the Marathas (Angres), but after some months, in October,the Angres raised seige.
On 18 September 1740, the conclusion arrived, Chaul was ceded by treaty to the Marathas.
Of Chaul, today are still visible: the ruins of the town-walls with his powerful ramparts, the ruins of the church "Matriz", the church and the convent of the Augustinian, the Franciscans church's, the "Misericordia", the Porta do Mar".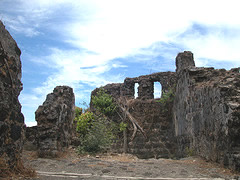 The adjoining fortress of the "Morro of Chaul" show, still today, the remains of the walls.
In Korlai, a few kilometers from Chaul, there is a community of people (900) that still today speak a Creole form of Portuguese.