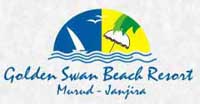 | Home | Golden Swan Country Club | Golden Swan Beach Resort |
| Hotel Airlines International | Golden Swan Short Breaks |
THINGS TO DO
En route to Murud Janjira (after the Revdanda Bridge) explore the light house at Korlai and the Portuguese Fort overlooking the bay.


Or stop by at Nandgaon's Ganpati Temple (15 kms before Murud Janjira) and get Lord Ganesh's blessings.


Drive up to Idgah, right across from the Resort, the highest point of Murud Janjira, and watch the brilliant sunset.


Or hire a sailboat in the evenings and have a picnic on the boat with your F&B and music (guitar preferable).


Take a sailboat to Janjira Fort from Rajpuri Jetty (4 kms from Murud Janjira) and explore the 500 year old fort in the sea.


Or take a sail boat to Kasa Fort (Shivaji's fort) (1.5 hrs sailing time one way).



If you like to fish, hire a sailboat for a fishing trip from Rajpuri Jetty.


You can explore the 2000 year old Buddhist Caves near Bhalgaon (20kms from Murud Janjira).


Rent a bicycle and discover Murud Janjira town, the oldest municipality in India developed by the Nawab more than 100 years ago, with its own electricity, water supply, drainage and roads.


Take a walk on the beach in the mornings and do Surya Namaskar or play a game of cricket in the evenings.


Experience a Horse Buggy ride in and around Murud Janjira.


If you just want to relax at the Resort, then catch up with all the reading you wanted to, or just collect your thoughts with stretched legs on the verandah.